1313 Cult is a hacker on MSP. (USA and UK) She was discovered by Your Living Nightmare.
How She Got Discovered
Your Living Nightmare was doing a hacker hunter episode when this hacker appeared, she began to mess with it as it told her some strange things, and she was logged off.
So far all we know that she does is log you off and change your status.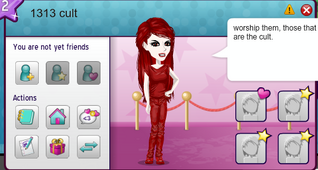 1313 cult's status message:
"worship them, those who are the cult"
Appearance
On USA she appears with white skin, wearing all red. She has long red hair, red eyes, red lips, red eyebrows, a red shirt, red jeans, and red boots.
Trivia
She is known to have hacked Your Living Nightmare.
She has also hacked one of Yuka Mochida's hacker hunter accounts.
She has also hacked Elsa Icee.
She will send very satanic messages before you are hacked, such as "believers will die" etc.
Theories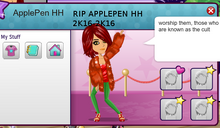 Community content is available under
CC-BY-SA
unless otherwise noted.