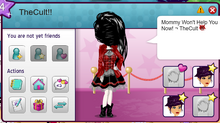 2016 was an eventful year when it comes to hackers and hacker hunting.
Why is 2016 so special?
2016 brought us many things, the rise in viruses, more glitches, far more hacker hunters and also far more hackers...
Some of the most well known hackers 2016 gave us include TheCult,Riz,Raid Net,Twisted Nerve (Hacked by TheCult) and many more. 2016 has changed the hacker hunting game quite a lot and will forever be remembered due to this. The new trend in viruses also changed everything, the most iconic, dangerous and most memorable of which being the Anonymous and TheCult virus.
Many hackers also returned, supposedly Grim returned at the start of the year for a virus, but some say the virus was fake some say it was real.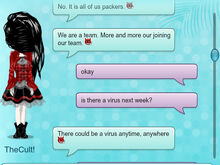 2016 events
Anonymous and TheCult virus
Grim Reaper virus
A storm in new hackers and hunters
Many hackers returning
The first hacker to ever hack another hacker (TheCult hacked Miss Filly's Twisted Nerve account)
2016 may be the year of new hackers, but it will also be known as the year of new hunters, the different amount of hunters between 1st January 2016 and 31st December 2016 was crazy, many people got in to hacker hunting because the storm of new hackers and viruses. Chatrooms were also constantly filling up, 2016 was likely a peak for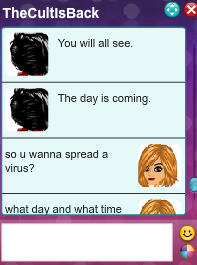 the amount of new hackers and hunters. The numbered chatrooms occasion happened more frequently during this year aswell. The most popular hackers also changed quite a lot during this year, hackers that have been quite inactive such as Grim are a bit less popular now and new hackers that have been very active such as TheCult are much more popular. 2016 also seemed to be a year for hacker hunting on all servers.
Community content is available under
CC-BY-SA
unless otherwise noted.