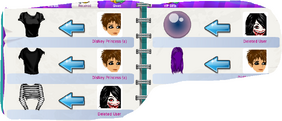 Does everyone remember the fake hacker Sc@ry? Well. Today, I have a theory I want to share. As of now, both of her accounts are gone. Canadian deleted, and UK locked. (For those uninformed Sc@ry was a fake hacker who was exposed by Team Two-Faced while trying to join.) So, here's the theory.
Me, Lunria. Was a 'victim' of her, as in..She knew my password (probably banned software) and she said I'm going make my password yours if you make your status "Packed by Sc@ry (d)" then I'll gift you. So, being a noob back then, I just made my status it. And carried on. Then, a user named like cute44673 or something who probably was convinced by Sc@ry to make the page. So they did. Now onto my theory.
Sc@ry was a hacked giveaway account.
She was favored by A LOT of people, so maybe due to her popularity. Another user who joined the Canadian servers in November was meant to be a giveaway account where people could ask for stuff. Then eventually the password for her was leaked, so she gave up on the account. One lucky user took the account, and took advantage of the username. Then changed the password over and over. People realized this and maybe took it as a joke. So passed it on, then later Sc@ry unfriended all the users, and updated her bio. Here's WHY I think Sc@ry was originally a hacked account
When being 'hacked' (lmao she can't) she asks you to change your status to "Packed by Sc@ry" for a gift. And she gives you the gift. She had a lot of clothes last time I checked (November 2016). Second, Sc@ry will ask you what you want. Which is just like a normal AB giveaway. In fact, what if the original owner is the fake hacker we all know and hate today? Let's discuss who I think the original owner is.
DisNey Princess (a), or Violetsz, a previous victim of new hacker Shak1ng, DisNey Princess (a) has gifted me before, in fact her status WAS Packed by Sc@ry, here's image proof. (not of the packed by Sc@ry thing)
View Violetsz proof at the end. DisNey below.
Don't they look eerily similar? Probably because they're exactly the same person. Sc@ry.
Lastly. This is just a theory.. It's not true, or false. Whatever we know may not be revealed. Let's hope Sc@ry comments the truth. Then we'll truly know!!!!111!!!!