Learn All About B!oodBath here!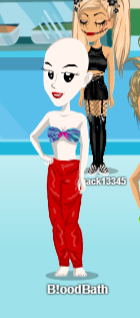 About B!oodBath
B!oodBath (also known as B!ood, to those on MSP) is an extremely active, and common to see hacker on Moviestarplanet (USA Server). B!oodBath is a well known, and powerful hacker on Moviestarplanet. B!oodBath as of now, only attacks the USA server. She/he is mostly seen in the cafe, which is a very popular place for hackers like her/him.
How It All Began
On Sunday, December 31st 2017- A user named B!oodBath appeared in the Theater Cafe. Soon after she/he arrived, multiple Deleted Users dressed as her appeared in the chatroom. Which as you guessed, freaked people out. They were all level 0, including B!oodBath. Many MSP users did not know what to do, nor what was happening at that moment. Some say 5 minutes after she joined the chat, their WIFI crashed and lost connection. Some say it was just a glitch in the system.
Rumors
Some USA server say that B!oodBath caused the 'January 2nd Virus' that occured Tuesday, January 2nd 2018 5:00pm. This has not yet been confirmed by B!oodBath her/himself. So these claims are invalid. Users say that B!oodBath was an accidental glitch created by moviestarplanets computer system. This claim is most likely not true, and has not yet been confirmed by moviestarplanet, nor B!oodBath.  
Relationships
B!oodBaths relations with other hackers
Unknown Female :
Its been said by B!oodBath that she/he has had a falling out with Unknown Female last year. After Unknown made "disrespectful comments" about B!ood. (confirmed)
Anonymous :
It has been said by multiple users that B!ood is associated with Anonymous (also known as Anon to those on MSP because of safe chat.) Since supposedly she brought Anon into the horror cafe. (not confirmed)
Hacked By B!oodBath?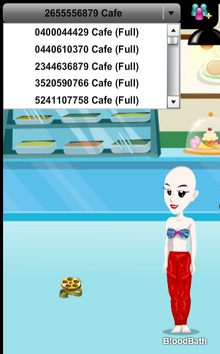 If you ever got hacked by B!ood Him/Herself, your status would change to "Time for your bath darling (d)" which is her/his signature saying. Some of your items/clothes may have been recycled or given away. Or your account would just get deleted.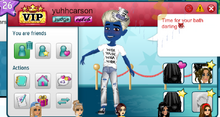 Community content is available under
CC-BY-SA
unless otherwise noted.