Bloodballon
is a hacker on MSP (USA).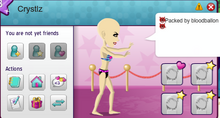 Victims
Who does she hack?
Bloodballon can hack anyone but mainly new users as seen by her victims.
What will she do?
She will most likely change the status to, "(d) Hacked by BloodBallon (d)." Change your clothes to the ugliest she can find and change the pass. She also made a forum on stephanieswater's account.