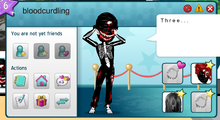 Who is bloodcurdling?
bloodcurdling is a hacker on USA MSP and is level 6. Her best friends are, Quick Death and The Stuffed Toy
she has 2 photos, one named T h r e e . . ., the same as her status and the other named prepare. She has been a member since May of this year and is not very active. She is a member of a 'Hacking' group known to be named Team Ierror.
Appearance
She/He has
A bandaged face similar to the Grim Reapers.
The cuts and eyeballs face accessory.
A skeleton top/bodysuit.
Bottoms with cuts in.
The teethy mouth accessory.
No shoes.
Hackings
It is not known if he/she has hacked anyone or even if they are real. I just wanted to make sure everyone was aware of who this 'Hacker' is incase they are a threat.
If you have been hacked please message me on either: EmeliaPlaysMSP (UK) BririshHackeraHunter! (USA&CA)
Community content is available under
CC-BY-SA
unless otherwise noted.