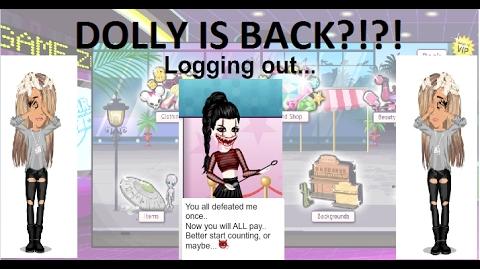 DOLL33211
Hello Everyone! I will like to just share some stuff with you about a new hacker on UK MSP who goes by the name of "DOLL33211". (also, this is my first post so, yay)
Who Is DOLL33211?
In the video i linked above, she states that she may or may not be the dolly, back for 2017. Either way, this hacker is quite dangerous. After a few minutes of the user calling DOLL33211 a fake, she logs her off and puts "HA!" on her bio, and also changes her pass. She has no artbooks, photos, or movies posted. She has one video added on her playlist, which is just a girl getting hacked and deleted by 33211DOLL, which I believe is DOLL33211's backup or first account. She seems mysterious, and I have a feeling she wants to be known like that. DOLL33211 has been on MSP since February, 2017.
Appearance
DOLL33211 has pale skin, the creepy smile, slits on her red eyes, black hair in a ponytail, striped shirt, a black skirt, striped socks, and black shoes. Her bio reads: "You all defeated me once..Now you will ALL pay.. Better start counting, or maybe... (d) 11pm.. (d)"
She seems to be another fake, possibly a wannabe, but she is anything but.
11 PM?
Now, what does "(d) 11pm.. (d)" mean? I have a few things that i think i know.
Assuming with this hacker's nature, it seems she wants to be known, like grim or anon. I have a feeling whenever somebody enters her profile (clicks on her) they want the user to feel scared, as if there is a virus. No date is/has been specified when this 11pm "virus" will start.
What Happens If I Get Hacked By DOLL33211?
Contact a hacker hunter immediately if she messages or adds you
Change your password many times
DON'T. I repeat, DON'T MESSAGE HER. The girl is the video did this, and that is how she got hacked.
Relationships With Other Hackers
She has no best friends, boyfriend/girlfriend on MSP. She has not been proven to have worked with any other hackers, or to be dolly.
Conclusion//Final Thoughts
I personally believe she is not dolly. Due to all her sayings with "viruses" and a lot of other things, I have a feeling she just wants to be known. She is real, however, and quite dangerous. Thank you guys for reading, and comment which hackers I should talk about next. -ciera
lets punch captain crunch and eat his face for lunch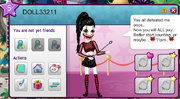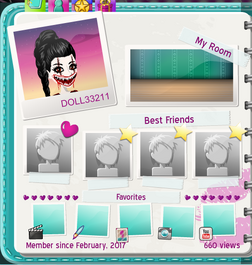 Community content is available under
CC-BY-SA
unless otherwise noted.