Dora xoxo
is a hacker on MSP. She is found on UK, AU, US,& CA servers.
She is known for pranking along with hacking, she commonly uses the threat "Hello child (d)" or simply the devil emoticon. It's unknown when she started hacking, but she targets adolescents. Despite her lack of popularity, she is said to have hacked 4 people in one day, video proof can easily be found when searching 'dora xoxo hacked me!' on YouTube. One user called Sa$$y or $a$$y was a massive target of her.
Appearance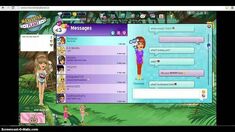 She has short brown old starter hair and other old starter items. Dora xoxo has a non-starter blue monkey on her shoulder.
Trivia
When she hacks you she will message you with threats and wear your rares. She will change your password. your status, and then claim the account as "hers". But since she is a troll, she may not hack you, instead she might just be attempting to intimidate or rile you up. Real accounts will play creepy music on your computer when she wants to hack you, otherwise the account is fake.
Community content is available under
CC-BY-SA
unless otherwise noted.