Who Was Extra Test?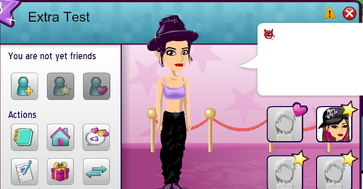 Extra Test
was
Anonymous
' apparent new account. Frequently, Anon goes around MSP with their infamous Deleted Users, the brains and brawn behind the 2016 Anonymous Virus.
TheCult
was also part of the Anonymous Virus and has teamed up with Anon. They are currently one of Anon's mains along with their Deleted User accounts.
Twinkle o
is said to be nothing more than a friend of Anon and apparently doesn't actually know how to hack.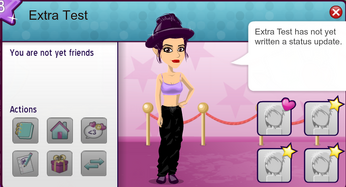 They were level 8, the "Extra Test" account was made in in January 2015.
Their account was banned on 24/5/16 (5/24/16)
What Does Extra Test Look Like?
Extra Test is usually seen with purple socks, a purple fedora, a purple bun, black baggy trousers and a lilac sports bra. They are sometimes seen wearing her designs, Anon 1 and Anon 2. Anon's Deleted User accounts usually come out wearing some dark purple hat with a dark purple bun and the original bra of MovieStarPlanet. They wear black baggy jeans and dark purple socks.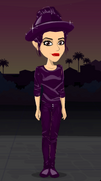 Anonymous Virus 2016
Anonymous Virus 2016 on UK MSP and was the worst virus MSP has ever seen. It will be operated and caused by Extra Test who is Anonymous' current account. The virus was announced by the TheCult and was also hacking victims along with Anon. After being banned they supposedly made a new account named Further Test to carry on with the virus they had planned that was almost ready to take place.
Community content is available under
CC-BY-SA
unless otherwise noted.