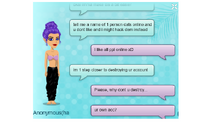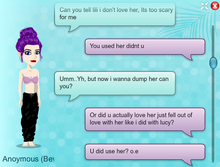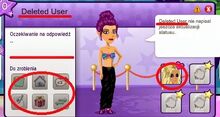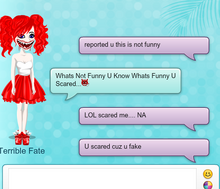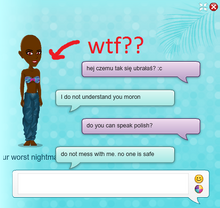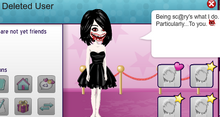 What Are 'Fakes'?
Fakes are users claiming to be some sort of hacker who has been active recently but do not have very good evidence supporting the fact they are a hacker. They can usually be recognized by poor grammar, different clothing to what the hacker they are claiming to be, and the inability to hack or control users.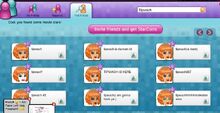 If you find a hacker, but you think they are fake, please contact someone on the wiki or message them on MovieStarPlanet, if unsure. Ask others to make a separate article on this hacker. If you think a hacker is real, don't forget to contact a hacker hunter. Hacker hunters will investigate the hacker. Also, if you're unaware if a hacker is real: don't play immature with them or question her/him. At least, not on your main account. They can be VERY dangerous.
How to spot fakes
One of the easiest ways to spot a fake is by their name, usually a hacker wouldn't have a ton of emojis after their name. If a deleted user is in a chatroom, don't assume they're real, MSP is a very glitchy game. Don't believe everything you hear either. For example, if a hacker threatens to hack you or spread a virus, remember only a tiny fraction of 'hackers' are real. It may seem hard to spot a fake, but remember most hackers you would come across are fake. But still NEVER call them fake or ask them if they are real, who knows if they can hack.
IF YOU GET HACKED CONTACT A HACKER HUNTER IMMEDIATELY.
Fakes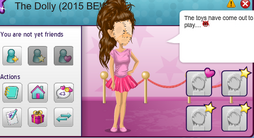 Every lookalike of the Dolly, Grim, Anon, etc. (all servers)
Little Red Hurts (UK)
Stalker Virus by little lost woods (UK)
Sc@ry (CA)
TheStichedDoll (AU)
Unscrewed Male (AU)
WhiteHacker(d)(d)Beware2017 (AU)
Zexha (UK, now deleted)
Unknown Protector (UK)
Miss Filly(demon side)
Anonie (d)
basementgirl1
Pennyblood back to hack
The Dolly (im back)