Further Test is a hacker on UK MSP.
Who Is Further Test?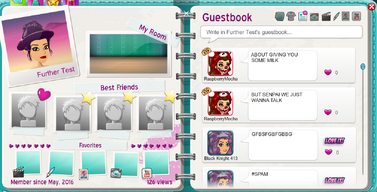 Further Test
is the new account of
Extra Test
as well as claims to be
Anonymous
. Further Test was apparently part of the Anonymous Virus 2016. They were said to be the account that will cause the virus after Extra was banned. When they hack you they play Santa's laugh. It is said they do what Miss Filly and Grim do, if you place your cursor over the delete button, they can cause your account to be deleted and you will hear the Santa laugh.                                                                
Virus
Further Test (Anonymous) apparently caused the virus and they reply to most messages. Many messages have been sent about the virus, many people have received a reply, but nobody on this wiki has unfortunately, so we will have to wait and see if someone does.
Story
In May 2016, Extra Test was locked so Anonymous had to make a new account as quick as they could so people would still fear the virus. They then decided to start causing the Santa Laugh that you hear when they hack you.
Community content is available under
CC-BY-SA
unless otherwise noted.