Who Is Grim Reaper?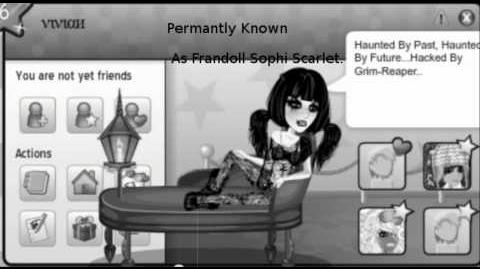 Grim Reaper
 is a common hacker on MovieStarPlanet (All Servers).
Origins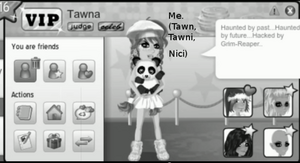 The Grim Reaper is an extremely dangerous hacker on MovieStarPlanet who began hacking in 2011 and is probably hacking in 2016. The Grim Reaper started out in a Forum called "A Little Test," oddly similar to Anonymous. Tawna, a victim of the Grim Reaper, stated in a forum that LadyMagdal had told her a story about her friend. This is what Tawna said: "LadyMagdal's friend was going to delete her user one day. She placed her mouse on the delete button, but didn't click it. Suddenly a black flash appeared, and the user was deleted. LadyMagdal kept seeing her deleted friend on the log-in page doing the blood on the floor animation and not stopping. LadyMagdal tried the same thing, and when she put her mouse on the delete button, she disappeared in a black flash." When players are hacked by the Grim Reaper, this will appear on their status: "Haunted by  past, haunted by  future, hacked by Grim-Reaper.
Victims of Grim Reaper's "A Little Test forum...":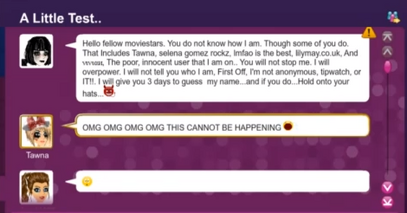 Before the forum, "A Little Test", Grim Reaper was known to have hacked at least one person. A level three user by the name of
Morgan Spillane
, who Grim Reaper then deleted.
After the Grim Reaper went off for a while, he created the forum, "A Little Test" on the Vivian on the 7th of December, 2012 at 24:00 (midnight/12:00):
Vivian (aka Frandoll Sophi Scarlet)
Heather1234567
Riannaroo
So__random111
Lillymay.co.uk
Selena Gomez rockz
Lmfao is the best
Cupcake222
XxXPrincessPeachXxX
princess Rosalina
Hi I'm Kayla
Demetria11
Is The Grim Reaper Still Active?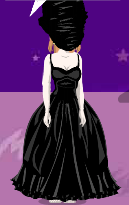 Grim Reaper usually hacks during the winter period, the end of November, most commonly December, and sometimes even into the start of February in rare occasions. However Grim Reaper likes to surprise users as they know they are expecting them during the Winter Period, and so sometimes starts their hacking at a later period. Grim Reaper, it seems, is less interested in her grudge with her past victims, some of which include
Tawna
, Vivian (AKA Frandoll Sophi Scarlet), Lillymay.co.uk, and many others who commented on the Grim Reaper's hacking forum. Grims new account is MSPs Grim Reaper which was originally the
Morgan Spillane
account.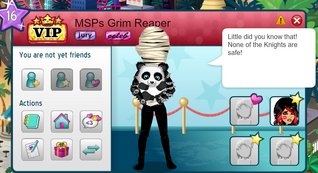 Where Is The Grim Reaper Now?
Grim Reaper can't be searched up in the sections.Just like Anonymous.If you search like this: 'Grim Reaper' It will be blocked. But if you search it like this, 'GrimReaper' no one will be there. It's unknown if she has another account.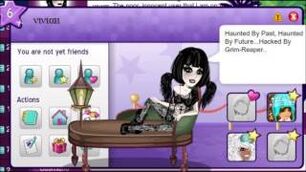 Community content is available under
CC-BY-SA
unless otherwise noted.