Who Is Grims Little Sister?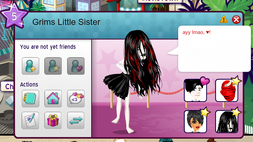 Grims Little Sister is a supposed hacker on UK MSP, she is mostly found in VIP chatrooms. Her first account was made early April 2016 and is almost active everyday, she also has a backup account: Grim's Little Sister Backup. Grim's Little Sister current boyfriend is ()GrimReaper() and her three bestfriends are: Madameblack!, RED AS BLOOD!!! & The song of death. She is known to use Charles.
Origins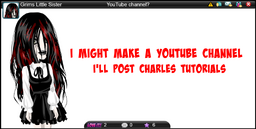 Grims Little Sister started to show up in VIP chatrooms in early April 2016 while being a non-VIP which would cause others to panic and ask if she was a real hacker, she simply replied "Don't worry about it". People accused her of being a fake hacker but she insists that shes a laid back hacker and doesn't hack randomly. Her first status was "ayy lmao, <3! Now I can buy boy clothes". Her first artbook is "YouTube Channel?"
Appearance
Her current outfit (April 2016) is the dress "Dark Forest" in black and white and for her hair its "Bloodstained Hair" which if you don't know is a VIP item. For her face she has white eyes with black lips.
Community content is available under
CC-BY-SA
unless otherwise noted.