The Horror cafe is a chat room on MSP (All Servers).
Horror Cafe
The horror cafe is one of the most common places where hackers are to hang out, or hackings are most likely to occur, and there are usually a lot of hackers in the chat room, a lot of which are fake. The Horror Cafe is believed to have been hacked a numerous amount of times. The Horror cafe shows up and goes away at random times every day, partly some believe because of the large number of deleted users in them.
Appearance
Most of the time the horror cafe is an ordinary cafe with the default background. Yet over the past few
months the horror cafe is frequently become a void, and even disappearing at times. Completely black and you can't move. MSP said in an email "This may be related to your browser you are using", and then they put "Try updating your browser". But as it seems, it is happening across all browsers no matter if you update it or not. Most browsers update automatically so users believe this is not the cause of the void. Most Hacker Hunters anyway believe this is a hacker making it black.
At the moment It seems that mobile users are not affected by this.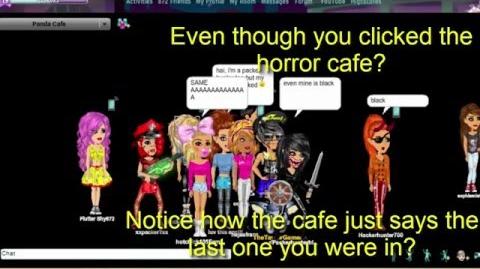 Community content is available under
CC-BY-SA
unless otherwise noted.