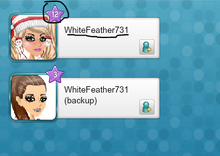 Justoldme666
is a an apparent hacker on MSP. There is very little information known about her.
Victims
She has so far hacked one person named 'Whitefeather731', and deleted her account. When Whitefeath731 was hacked, Whitefeather731 made a new account and Justoldme666 hasn't bothered her since. Whitefeather's old account was a level 17 (?) with V.I.P. But There may be more victims of justoldme. we will never know, though, its rumored she is now inactive, if she isnt, beware. She hacks on USA msp.
How was she found?
XoZoy also known as snowyring123 was hacker hunting when she got a message from what could have possible have been minthackerhunter21. Mint messaged her saying there is a new hacker called justoldme666. Mint went from talking about her and her profile, to her hacking whitefeather. Snowy looked up whitefeather731, and found that their status was changed to Justoldme's victim status, although she did not get to take a picture of that. The account was later deleted, and the account with all the messages' password was changed by an unknown hacker.
Notes
She is NOT fake
She is level 4
Snowyring123 is making a series about hacker hunters, and that will star a fake justoldme666 account as Justoldme666.
There is very little information about her.
Theories
- She is inactive
- She is friends with TheCult
- She could be TheCult
- Justoldme changed Zoy's password when she hacked whitefeather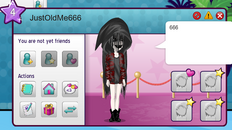 Community content is available under
CC-BY-SA
unless otherwise noted.