Kensai
is a hacker on MovieStarPlanet (CA, UK, DE, AU, PL and US), her US account is name
iasneK.
She is said to be very nice.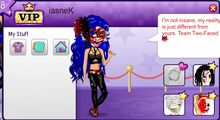 What Does Kensai Look Like?
She changes her outfit every once and a while but it's always black and red. She has tanned skin, and always has blue hair.
What Happens When They Hack Me?
When she hacks you she might give away your stuff, spend your coins, change your profile animation and clothes, sometimes she will make an art-book of themselves on your account saying "KEnSAi was here." and she will write something in your status along with her name "KEnSAi." (The letters KESA in KEnSAi are capitalized when she writes it so it could possibly be a message.) She does not hack on requests.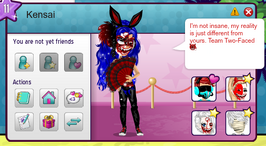 What Chatrooms Do They Go To?
Kensai is usually found in the cafe they she usually just hangs out there and doesn't want to be bothered or she'll bring a couple of friends with her. If you ask her if she is a hacker she will respond with "Yes, why does that concern you?" Sometimes you will see her in the Skate Park and rarely the beach.
Does Kensai Have Any Relationships With Other Hackers?
On Kensai's US account, she is best friends with MyHour and Nexterf. On her Canada account she is best friends with MyHour, Nexterf, and Hurting Smile. She knows TheLadyDoctor from Nexterf. People think she is connected with more hackers but that hasn't been proven yet.
First Appearance
Kensai was first spotted in a cafe on the Canadian server by a user of the name applehackerhunter10 which was her first victim. The owner of the applehackerhunter10 account was a user by the name of AudreyKicksButt1. She had spammed Kensai telling her to hack her account. Kensai hacked the account and locked it.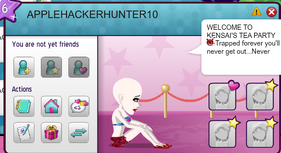 Community content is available under
CC-BY-SA
unless otherwise noted.