Who Is Madd Alice?
Madd Alice is a hacker who began hacking in July 2016. She was discovered by DJ MG008.
She hacks mainly on UK but also on Us and Australian msp.
She is inactive, we don't know how many people did she hacked.
Overview
It seems that either Madd Alice herself, or MSP have deleted the original Madd Alice accounts on UK and US MSP. Due to the fact that she was openly announcing her hacker-hood, it makes sense for this to be why she's somehow disappeared from the face of MovieStarPlanet.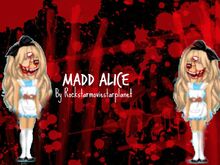 Admin edit: Please give this page some proof/photographic evidence or we will have no choice but to delete this page. Thank you for understanding.
Stub Article!
This article is a stub. You can help by expanding it.
Community content is available under
CC-BY-SA
unless otherwise noted.