The MoonLight Twins Are Hackers, Who Hack Into Your Account And Take Your Items. The Person Has 2 Accounts: MoonLightTwin #1 And MoonLightTwin #2 . They Are Mostly Found In Either The Horror Cafe Or Moonlight Cafe. They Wear A Mummy Mask, Horns And A Black And White poke- a -Dot Shirt. They Stand Next To Each other And Say Things Like: "Wanna Play...? ", "Playing With Us is Fun!" And Other Things. Once They Friend You They Start To Hack Into The System. They Are Hackers On CA Servers And UK.
They Hack And USE YOUR IP ADDRESS So They Frame A Person, In case The Person Who Was Hacked Contacted MSP. (in the result of taking a random user who plays msp and bans them)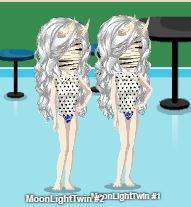 Community content is available under
CC-BY-SA
unless otherwise noted.