This article is in need of cleanup!
You can help the wiki by giving it structure, correcting information, checking grammar and spelling, removing anything unnecessary, and doing other helpful things to correct the article.

Mysteriousbloodforever is a hacker on MSP (UK). She said that she's here for revenge just like Shadow Walker (d).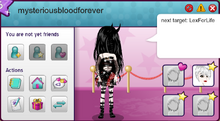 Origins
She says that she has been bullied and she hasn't been liked on her main account, so therefore she made a new account called Mysteriousbloodforever to hack. At one point, someone helped her with that and she stopped hacking for a while, however people kept on giving her hate, even though she told them to stop, and that's why she started hacking innocent people.
What does she do when she hacks you?
There isn't much proof that she can hack.
Appearance
She has black hair, black horns and black bandages all over her head.
She has a black dress and black boots.