Main Info
There are new hackers going around named Nox Terrorem and Somnum Extrerreri. These are two players who look the same, like twins. Their names translate to "Night Terror" and "Nightmare" in Latin. These two hackers usually don't come out and "play" but they can sometimes be seen in Monster cafe. They usually speak about Jesus.  
Victims
PineapplePizzaMsp
Jalapenohackerhunter22
Your Living Nightmare.
"this was my first experience with hacking" Pineapple said "i will never forget one thing: they made me bald X3" A few words from one victim.
What They Do.
They will change your status and password. Then after change your clothing but they don't spend your Starcoins and diamonds.  
The Truth.
A while after these events happened on YLN's main Channel she released a video about the Nox terrorem and Somnum Exterreri and that it was just a socail experiment to see how the MSP community would react. The people really controlling the accounts were Nightmare's friends Kerry and Angel.
Video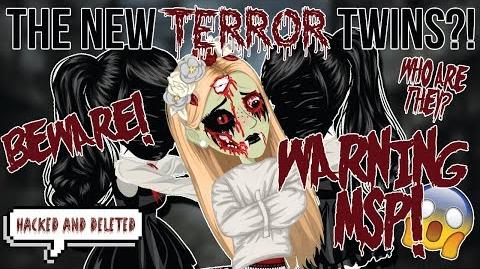 Community content is available under
CC-BY-SA
unless otherwise noted.