Raid Net or, Fuzzy (To those that decided that nickname) is a hacker on MovieStarPlanet (USA).
About
Raid Net is a hacker on MovieStarPlanet and a general hacker on the internet. He has not only attempted to hack users, but also websites such as blogs, social media platforms, and games. Raid Net used to have a YouTube channel as well, but he later deleted the channel. He is known for finding out people's IP addresses and revealing them, hacking into computer webcams, and even hacking entire websites and/or even shutting them down for a period of time. Currently, he is inactive.
What they do when they hack you
When Raid Net hacks you, he will send items to other users, promote the group, get the account locked forever or deleted, or even keep it. He also is able to find out your IP address, reveal it, and even hack into your computer.
Trivia
He is supposedly a group of people.
He used to have a YouTube channel that was called "Diar Net."
He was chatting to Gator and she nicknamed Raid Net 'Fuzzy' 
His real name is Aiden. 
How to avoid getting hacked
To avoid being hacked by Raid Net, make sure and/or attempt to not have any communications with him. Do not message, call, chat, insult, etc. him as that can draw attention to you.
Victims
Warm Blood (USA)
omg130421 (USA)
Black Knight 777 (USA)
BocaBubblez (USA)
/ RareHare / (UK)
Pumpchkin (USA)
Holly Nova
Pixi Star
Zac Sky
piinksparkles0818 (USA)
J!NXED (USA)
Your Living Nightmare (USA)
Blackdaddyboss/Tayman30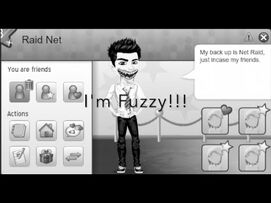 Appearance (Often changing)
Raid Net is pale, has the bloody red mouth that covers half of the face, black and purple hair, a shirt with a tie (sometimes no shirt at all), and black pants.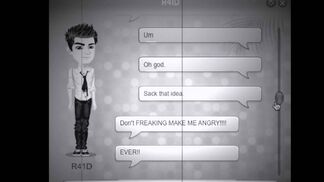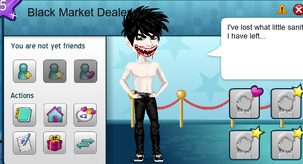 Community content is available under
CC-BY-SA
unless otherwise noted.