Here is the full list of users that are a part of Team Devils on the U.K server. Some of them seem more like capable hackers, and others show a desire to learn... So, you should probably look into LoneSoul, who has been coordinating the group chats. You guys are lucky I'm even giving you this list, so be grateful, and don't tell me to change the way in which this info is presented... Anyway, here's the list..
[The GrimReaper] (Her main is) Tina MSP (Foxy)
mangle the fox666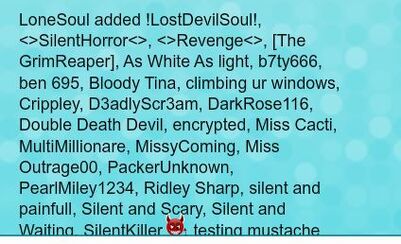 Infant Silent
!BloodlyMary!
Dragged By The Past
Darkness Eternity
XxRaimaNaquiXxX
Silent And Watching
Silent and Spooky
The Deth Stalker Minion 2
Miss Outrage00
D3adlyScr3am
Th3 M1ss M0n4
DangerSlash
encrypted
glitch ghost
LightLightNoMore
The Death Stalker Minion
TheTerrigangs
TheTerrigangsBoss
The Dolly tweeen 1
The Miss Roma
TheScreamingChild (2016)
theDOLLYhasCOMEoutTOplay12
LoneSoul
DarkMoonLightNight
Darkness Eternity
Silent and Dead
Silent and Watching
The Proxy (d)
b1ty4
b1ty3
trerror girl (d)
ben 695
DarkRose116
!LostDevilSoul!
<>SilentHorror<>
<Revenge>

[TheGrimReaper]
As White As light
b7ty666
Bloody Tina
climbing ur windows
Crippley
Double Death Devil
Miss Cacti
MultiMillionare
MissyComing
PackerUnknown
PearMiley1234
Ridely Sharp
silent and painfull
Silent and Scary
SilentKiller (d)
testing mustache101
TERRIGANG!
The Dolly (msp hck)
TheScreamingChild (2016)
BlueBlackBoy889
Community content is available under
CC-BY-SA
unless otherwise noted.