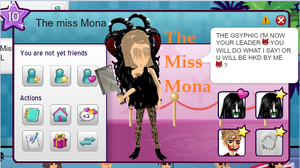 The
Miss Mona
is a hacker on MovieStarPlanet (UK) who joined in December 2014. She is the leader of a hacker team, Team Devils, alongside
Dangerslash
which is the opposing team of Team Rebels (the hacker hunters). Her current user on MSP (UK) was
Freakiixevil
until she allegedly quit. She has now made another account called,
W!CK3D 0NE
. Her new account is
W!ck3d 0ne leader
. She is now rumored, after Black Knight 777 and many others found her account on USA, to be creating a bigger and more dangerous Team Devils on USA MSP. She made a new account called
Cxped
which could be seen in the cafes!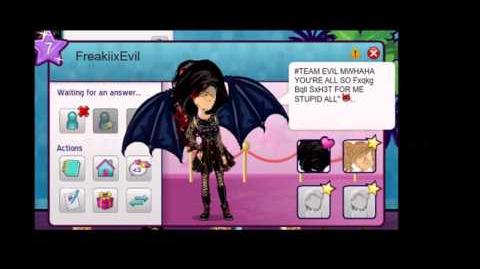 How she became known
Miss Mona became first known when she made a little test like hacker forum. Soon she deleted her "The Miss Mona" account, and created one by the name of "Miss Candirey." She later made herself known to the hacker hunters, Black Knight 777, and Black knight 108 who were currently making a video about her, surprisingly, when she interrupted them, alongside a team she called, "Team Devils."
Trivia
Her first user was Miss Mona, but she may have deleted it, or the account may have been banned.
She was discovered by Black knight 108, and shortly after, she arrived at Black knight 777's room, on her confirmed account Miss Candirey, interrupting Black knight 777, and Black knight 108's video about speculating Miss Candirey to be Miss Mona.

Her second user was Miss Candirey, which now is also deleted, or banned. 
Miss Candirey claimed she could give viruses, and supplied evidence of this in an artbook.

Miss Mona MSP Hacker

Her third account is Freakiixevil, however, it seems that she has not been on as much. 
Her fourth and current account is W!CK3D 0NE. Her fifth account is w!ck3d 0ne leader
She strongly dislikes Team Rebels, especially Black Knight 777 and Black Knight 208, and states that she will destroy them. 
She claimed to be in allegiance with Grim Reaper, who is not the real grim reaper, but a user by the name of 'Madame Black', who has many accounts- of whom have been banned numerous times by Team Rebels.
She has a YouTube channel.
Community content is available under
CC-BY-SA
unless otherwise noted.