Team Rebels is a hacker hunting group lead by the user Black Knight 777  on the UK server of MovieStarPlanet. 
Every game has hackers, but every game can also have hacker hunters, and MovieStarPlanet is one of them. Our goal is to make MovieStarPlanet a better place by destroying hackers. We gather information, fulfill it, and make theories out of those to find hacker's weakness's. We fight for what's good.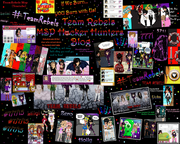 Team Rebels has been around since July 16, 2013. This team can also be called Black Knight's. 
Some of the first Members were, ' black knight 999, black knight 253, black knight 777, black knight 282, black knight 202, Lilymay.co.uk, black knight 108, black knight 246, and Cynthia Foxx'.
Some of the rebels such as the ones listed above used to hang around in freakiixevil's room, known as Mona/ Miss Mona, 'The Miss Mona'
Mona Is The Leader Of Team Devils. A While After.. Team Rebels and Team Devils had a 'battle'..Mona's plan went wrong and Team Rebels officially won. ;D
They thought Mona could be gone for sure. But she came back..
Later in 2015 Mona became very poular on the American server. 
In 2016, many people discovered a "New Team Devils Leader", with  the user of WICK3D 0NE. This year, 3/5% users of MovieStarPlanet began to get logged out recently, black boxes/squares appeared on screens, colored flashes, clothes glitches/ color changes, on their accounts..
Nobody knew what was happening..Later on in the year..A couple new hackers appeared on the UK Server; Danger Face, 1337, and Raid Net. Danger Face was allies with Mona, 1337 wasn't so dangerous..Not just yet..And Raid Net..Ah of course. One of the biggest..
Team Rebels has not yet ended after this..Theres more..Stick around for more information.
~ Black Knight 956 
YouTube: BlackKnight956 MSP
Subscribe for top hacker news, MovieStarPlanet's Newest Updates, MovieStarPlanet Account Safety Tips, And more..
Community content is available under
CC-BY-SA
unless otherwise noted.