Madame Outrageous:
In 2016, a user named "Madame Outrageous" came into MovieStarPlanet. The user wore Pink & Black, looking similar to another hacker known as, Miss Outrage. She wasnt known at all until she spotted her first victum, FushaHackerHunter (aka me). Not many people knew her even after her first victum, until the youtuber Gator Gerhardt made a video of her, which you can still see today (SUB TO GATOR)! Madame is still on moviestarplanet today with her new user called "The Madame Outrageous". :(
Effect: When you get hacked by this user you log out for a long period of time. If you are not fast enough, she will delete your account. ;-; Trust me, i went through that *cri* ;_;
Conclusion: In conclusion, I wouldnt mess with this crazy hacker unless you dont care for your account or you are a hacker hunter. ;_; But please spam her guest book with "STRAWBERRY" mostly because thats her nickname. xD
--Fusha <3 (Usa Account: >FushaHackerHunter<)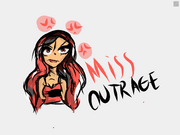 Big credit to whoever drew this :) -->
Community content is available under
CC-BY-SA
unless otherwise noted.