Who Is #Wicked?
#Wicked
is a hacker on MovieStarPlanet (FR). She apparently is a British hacker and started her hacking on the French MSP on July 2016. She is very powerful, she hacks everyone in her way, from beginners to the high leveled. She has a Y
ouTube
channel.
What Happens When #Wicked Hacks?
This will happen :
She will change your status to something like : "Hello my pretties (d) #Wicked".
She will change your password.
She will give greets to her account "#Wicked"
She will put a ridiculous outfit on you.
She will recycle all things that she is hating.
She will remove some of your friends.
And finally, she will ban you forever, that means you will lose everything!
A known victim of hers is NTSWAG.
What Does #Wicked Look Like?
#Wicked doesn't have the look of the most hackers like Miss Bella and not creepy at all. She has got a black and white hat 90s style, the bowdacious babe in the default color, a big shiny black mouth, some retired tattoos, white skin with stitches accessories over her face, red wavy long hair, black and white trainers on her feet.
What Do I Do If #Wicked Hacks Me?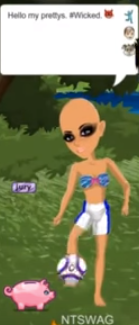 Copy and paste your pass (she can log into your account VERY fast)
Change the pass before she can do something
If she is on your account, connect very very fast
How Can I Stay Away From #Wicked?
Be very little and gentle on MSP
Don't mess with her
Don't try to play with her by saying things like : "Hey Potato! :D"
Don't block her
Don't go on her profile
Don't even try to search her in "friends"
Don't ask her to be her friend
Don't message her AT ALL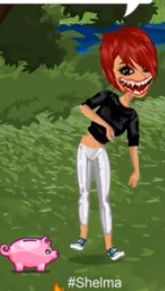 Who Is #Shelma?
#Shelma her partner in crime. She looks way different, not creepy at all. Red short hair, a wide mouth with bloody sharp teeth, a black sweater and silver, shiny leggings.
Community content is available under
CC-BY-SA
unless otherwise noted.