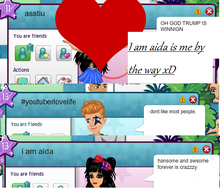 About xxdemondeathxx
xxdemondeathxx was a MSP hacker that went by many usernames.
Past
In the past, Demon Death would make accounts and say she's gonna hack people. The only account she ever hacked was a user called Asstiu (USA) #youtuberlovelife (USA) I am aida (UK). She mostly just bullied people. She also was shown to be nice if you got to know her. Asstiu says that "She is sweet, but with a dab of spice" She also tells people to die.
How she hacks
First, she hacks in a way that I still don't know about and if you message her something rude,she may hack you. Then, she steals your clothes and keeps your account for a day. After the day, she gives you your account back.
Trivia
She is said to be 18 years old
She hacks if you bother her
Asstiu claims that she met demon death in a chatroom and that they are friends but still has to be careful with her
Asstiu said she had kik which was ash_queen
She can hack into your best friend spot
She was here since 2014
Her new hacker account is Asstiu the real, which she hacked off of Asstiu and is pretending to be her